Hi Guys,
I hope you have been having a wonderful fall! I've been keeping busy with work and writing. I'm also babysitting a puppy at the moment. It makes me want a puppy again, they are always so happy! Lailah is having fun, but the cat not so much. He has spent most of the week on his cat tower looking down on the "gross dog" and hissing at her. Lol.
I am so excited for Halloween! I know it's still about a week away but I took a picture of Lailah in her costume to give you a sneak peek. She is super cute as a witch. I know, I know, witches aren't supposed to be cute but look at her! 🙂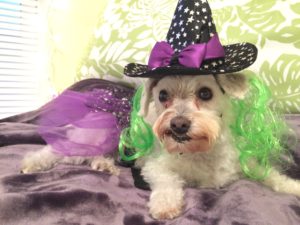 You may not be able to tell in this photo but she received a mysterious cut under her eye last week, that appeared out of nowhere. It makes me wonder if Majick, (my cat) was involved…Things are getting real over here in Crownson Castle you guys. Lol.
In other news, my work in progress, Ring of Fire is going well. I'm right at the end, tying up all the loose ends, and then I'll go back and start editing.  This has been my favorite book to write, and I hope you love it as much as I do.
As busy as I am, I still made time to get some reading done. I've just started The Giver. I loved the movie, but I never read the book! What are you reading? If you found some good books let me know!
If you are looking for some amazing reads for the upcoming holidays, I've got a great giveaway I'm helping to sponsor. You have a chance to win fifty books! They include some of my favorites, such as Cassandra Clare, Sarah J Maas, and Stephanie Meyer. Click here to see all the authors included in this gift pack and enter for your chance to win! Good luck! 🙂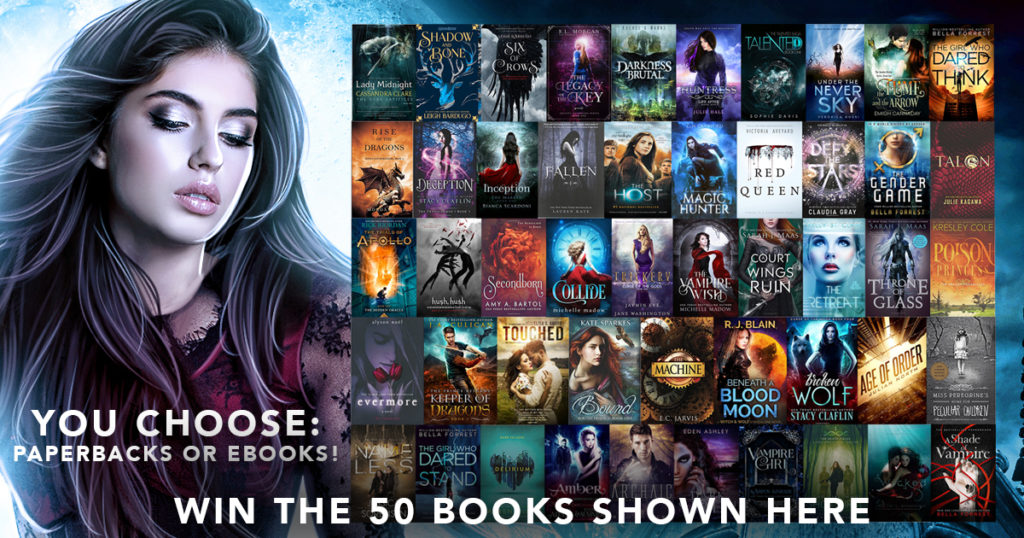 Okay guys, I better get back to it.  Book writing time!
Happy Reading!
Love,
Genevieve
P.S If any of you need to catch up on the series before the last book drops here are the links:
The Soul of the Sun
The Power of Alchemy
If you've already read the first two books and enjoyed them, I'd appreciate if you would leave an honest review on Amazon!  Even one sentence would do.  It would mean so much! Thank you! xo