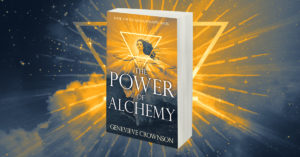 THE POWER OF ALCHEMY- BOOK 2 OF THE ARGOS…
THE JOURNEY CONTINUES…
Hi Everyone!
I couldn't put it off any longer—I'm just too excited! 🙂 The thrilling sequel of the Argos, THE POWER OF ALCHEMY, is now available!! Hooray!
Early reviews are calling it "Mysterious, mystical and compelling…" go on an unimaginable journey through time and space, where evil threatens and the planet hangs in the balance. What would you sacrifice for the one you love?
Check out the trailer for this explosive second installment of the Argos here:

You can get THE POWER OF ALCHEMY at the following retailers:
Amazon US
Amazon Canada
Amazon UK
Amazon Australia
(Print will be available in the next couple of weeks).
As a loyal reader and fan I am offering a special discounted rate for the weekend. You can get the POWER OF ALCHEMY for $0.99 for a limited time before it goes up to its usual price of $3.99 on Monday, April 24th.
And this is why I need your help. One of my resolutions for 2017 is to rank as high as possible on Amazon, so I can be found by more people looking for a good book to read…and I can't do that without you. Even if you're reading something else at the moment, buying The Power of Alchemy now at the special launch price and adding it to your To Read pile will mean that the purchase counts towards the ranking and will make it much more likely that we can really make a noise with this launch. And then you'll have Emma's latest adventure on your device ready for your summer vacation. 🙂
I hope you love the book. It was certainly a blast to write. Let me know what you think…and please feel free to forward this to any of your friends who might like to get to know the Argos Dynasty and the deep secrets of their past.
Thank you again for all your support. It means more than you will ever know.
Love,
Genevieve xoxo
P.S: Please note that The Power of Alchemy is currently exclusive with Amazon and is not available on Apple, Barnes & Noble or Kobo. That all being said, you can add the Kindle reader to any device (get it here) so it shouldn't be too difficult to grab the book and enjoy it. 🙂