Whoo. September has been a rough month. With all the fires, hurricanes, and earthquakes that have happened recently, I feel like we are in some kind of apocalyptic novel.
We were very lucky here in Charleston, as Irma was originally forecast to hit us as a category three hurricane. Fortunately, it came in as a tropical storm. (Which personally this Vermont girl finds scary enough). We had some damage and some down trees but nothing to what Florida is dealing with. I'm sending my thoughts and prayers to any of you that were in Irma's path.
Lailah and I hunkered down during the storm and got busy. The beautiful thing about writing is you can do it even after you lose power. It was a bit nerve-racking at times as I thought some of the trees might snap in half and hurtle through the window (my imagination is big lol), but I guess it created the appropriate ambiance as I head toward the final showdown of good vs evil in RING OF FIRE.
Here is a picture of Lailah helping me with my novel, right before the storm intensified. Once the winds picked up and started rattling the windows she was on my lap for the duration.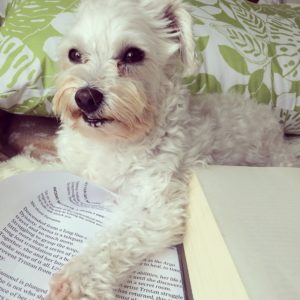 I don't have a release date for RING OF FIRE yet, but will let you know as soon as I have one. I'm more than halfway through the book so hopefully, it won't take long. I know many of you are eagerly awaiting the final installment. 🙂
Okay guys, I better get back to the writing grind so I can make my word count for the day. Let's hope October is a little more friendly than September. Halloween is on the way and I am already plotting what to dress Lailah up as. If you have any suggestions let me know. LOL. 🙂
Love,
Genevieve
Author of the Argos Dynasty Series
P.S.  I'm currently OBSESSED with the A Court of Thorns and Roses Series by Sarah J. Maas. What are you guys reading? If you have any good books to recommend let me know!! 🙂