Hi Guys,
Can you believe its November already? Time goes by so fast.  I've had two days off work this week, so I've had more time to write. I'm closing in on the last scenes of book three, just wait until you see how it all ends!!  I'm definitely going to miss all the characters I've created, but don't worry I already have a new story percolating in my head. 🙂 Before that can happen though, I have the job of editing Ring of Fire. This book is the longest of the series so far, so I have my work cut out for me.
As you can see from this picture of my cat Majick, he is making sure I stay on task. This was taken at 5 AM at the beginning of one my writing sessions. (Reality Check: All he really wanted from me was his breakfast, I'm sure he could care less about my word count. haha)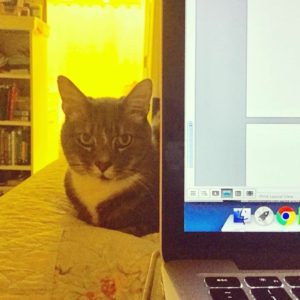 Speaking of Majick, he is getting very excited about Thanksgiving. His little cat mind is already filled with images of stuffing and bread (he loves his carbs). I'm sure he would love turkey too if he had the opportunity to get his paws on any. Unfortunately for him, I'm a vegetarian so he won't see any of that. Still, I suspect he would take a French loaf over meat anyway. He's a bit weird like that.
I'm co-hosting another giveaway this month! Hooray!  All you have to do to enter is pick the book you would like to win, and follow the Authors listed with that novel on Amazon. There are many best sellers to choose from which is very exciting.  I'll leave the link here if you want to enter. Since I'm included in the giveaway you could enter to win a book by Sarah J. Maas just for following me! It's a win-win! 🙂
If you would rather not enter the giveaway but would still love to follow me on Amazon just click here and hit the follow button. Easy! Then you will be notified when I have a new release or sale right away. 🙂
Okay guys back to writing for me; I still need to make my word count for the day. My goal is to have this book finished by next week.
To my American friends, I hope you have a wonderful Thanksgiving holiday. We have so much to be grateful for. As for me, I'm especially thankful for all of you and your support this year. Thank you for spreading the word about my books and being my biggest fans, it means so much.
Love,
Genevieve xo